AL-Alberta
CO-British-Columbia
LA-Labrador
MA-Manitoba
NB-New-Brunzwick
NE-Nova-Scotia
ON-Ontario
QC-Quebec
SA-Saskatshewan
TN-Newfoundland
TNO-North Territories
YU-Yukon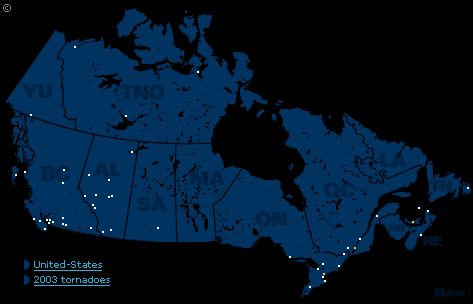 The above map is linked to the EarthWatch site. More it's white, more clouds are thick, more there is risk of severe thunderstorms.

Remember: there is less tornadoes in Canada than in the United States. In Canada, areas most often touched are in the center of the country or in the south of Ontario, especially between June and September, between 5h00pm and 8h00pm.

As a guide, you can also use the lightning activity map on the Environment Canada's Weather Office site.
Instructions
Check area where there is big white clouds using the second map, then find a webcam showing live images of the concerned area on the first map (click on the dots). Perhaps you'll be the lucky one to see a severe thunderstorm or a live tornado... in full safety
!
• Almost live webcam
• Several cameras at the time
• New camera
• Having already filmed a live tornado
• Interactive or streaming webcam